More US voters trust the Republican party to handle the issues they care about, according to a poll released by George Washington University on Monday.
When asked about specific candidates, however, the same voters were more likely to say they trusted Hillary Clinton, the Democratic nominee for president.
The findings suggest that the Republican party might have been well ahead in the race for the White House in 2016, had Donald Trump not been their candidate.
The GWU poll asked 1,000 registered and likely voters what they felt was "the most important issue that the next president should be focused on".
"The economy" was selected by 23% of respondents, followed by "dysfunction in government" (14%) and foreign threats (13%). Jobs and healthcare were both chosen by 10% of respondents.
By a clear margin, the voters were more likely to trust the Republican party on the economy, taxes and jobs.
But when asked about which candidate they were more confident would address the issues, voters were more likely to choose Clinton than Trump.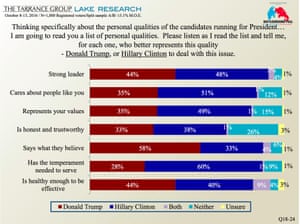 Candidates are not the only ones who think strategically: the GWU poll shows voters do too. Only 29% of Clinton supporters say their vote is about stopping Trump from getting the White House; 43% of Trump supporters say their vote is a defensive vote against Clinton.
National polling averages show that Clinton's lead has widened since the start of October. Democratic political strategists have suggested that is due to falling support for Trump among women, college-educated white people and independents.
Republican analysis of the George Washington poll can only be described as deeply pessimistic. It claims that Trump's "campaign tactics have created a picture of almost certain defeat in November", and adds that "the silver lining of this personality driven campaign is that it is his name and brand that are suffering and not Republicans overall".
The title of the Republican paper? "Breaking up is hard to do". It starts by quoting the 1962 Neil Sedaka song of the same name.