America's most likely next first family are retracing familiar steps. For Hillary Clinton, the road to the White House has taken her to a masonic shrine in Pennsylvania where she spoke during her 2008 primary campaign. Some 250 miles west, husband Bill begins a bus tour for her through Ohio by following the route of a trip in his 1992 presidential campaign. Two hours east, their daughter has just done her bit at a rally in the suburbs of Philadelphia where she brought her mother-in-law and breastfeeding son along to watch.
Chelsea was 12 years old when the family last moved to 1600 Pennsylvania Avenue and there is a mounting sense of excitement that – if recent polling is to be believed – her parents could soon be back, with roles reversed. After a disastrous week of mishaps for Donald Trump, the Clintons are campaigning hard in his blue-collar heartland in the hope of blocking off their opponent's path to the grandest of Washington addresses.
It is a complicated domestic routine. Bill will spend the night on his own at Youngstown's Courtyard Marriott, watching the vice-presidential debate and then reading until late to finish a book on the American civil war. Though they both travel with a vast retinue of advisers, reporters and guards, it doesn't stop Bill's bus getting a puncture and Hillary's convoy getting lost as they both hurry to make it home together the following evening. Hillary, who only finished a course of antibiotics for pneumonia three weeks ago, won't make it back to their house in the leafy New York commuter village of Chappaqua until midnight.
But this is what they do. Even Chelsea is being groomed into the family business. Before speaking outside Philly, she was introduced by her mother as "an expert on healthcare", the same subject that established Hillary's reputation as a fearsome public policy wonk. Bill interjects rather more clumsily on the issue now, and has to spend the week modifying some overly blunt criticism of Obamacare that embarrasses his wife's campaign.
Blending the personal and the political works well for mother and daughter, though. They next take a question from Brennan Leach, a 15-year-old child actor in the audience who just happens to be the daughter of a local senator. She wants to know how they feel about Donald Trump disparaging women's looks, including calling Miss Universe winner Alicia Machado "Miss Piggy".
"I see with my own eyes the damage that Trump does when he talks about how [women] look," responds Hillary. "Think about it. My opponent insulted Miss Universe! How do you get more acclaimed than that? But it wasn't good enough. We need to stand up to it, especially to the bullying."
Chelsea, whose own appearance as a White House teenager was teased by Rush Limbaugh and Saturday Night Live in the 1990s, nods approvingly as her mother continues: "I am passionate about this because we know that young women begin to get judged at earlier and earlier ages because of messages from the media and we have to stand up against that."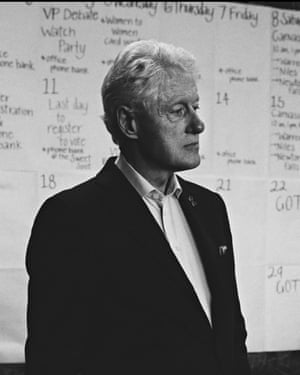 Bill's memories of the period are fonder and he appears to be loving every minute of being back on the campaign trail. Four days earlier, he hitched a ride on Air Force One, lingering to chat to the crew of what may soon be his regular mode of transport again when he accompanies his wife as "First Dude".
In a recent book about his father, George W Bush revealed that the first thing the 41st president of the United States did upon returning to the White House after watching a chilly inauguration ceremony for the 43rd president was to pop upstairs to the residence to take a warm bath in his old bathroom. The 42nd president makes clear he already feels like he's slipping back into a warm bath. "I feel like I'm in my very own TV show, or maybe a movie," says Bill Clinton as he strolls past a phalanx of cameras into a barbershop in Youngstown during the second day of the bus tour.
Later that afternoon at an organising office in Warren, he meets a volunteer for his wife's campaign. She is wearing a T-shirt with a picture of both of them and the slogan: "Get Two For One". "I love that," Clinton tells her, before pausing to admire another woman's lapel pin. "Bill Clinton knows how to win Trumbull County women", quips Ohio senator Sherrod Brown as he makes a formal introduction. "First man," shouts back another volunteer.
The trail takes a physical toll on Mr Clinton, too. Looking tired at the fifth stop of the second day in Ohio, he seems to forget which state he is in. "I just took a trip before I started on this bus tour of Colorado," he says, beginning an anecdote about an Air Force One ride that leaves the union hall scratching their heads. "I can tell you, having lost it, that youth matters," adds the 70-year-old later.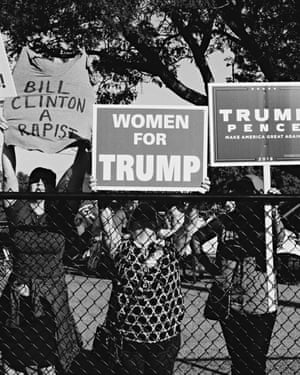 Real or imagined, the past catches up. One woman in the audience holds up a T-shirt on which she has written: "Bill Clinton is a rapist". "We need answers not anger," he says as she is led out. Clinton also ducks a question about a recent Donald Trump allegation that Hillary has been cheating on Bill. "He should run his campaign, and she'll run hers," he tells a reporter who brings it up on the first day.
Harder to ignore are the angry placards along the roadside in this struggling manufacturing region. "Where are all the jobs Bill?" reads one, a question to which he has long, prepared answers to prove he feels their pain.
During a stop at an Italian restaurant, he diverts to the kitchen to quiz staff on how much they earn. A discussion of student debt recalls a conversation about interest rates with the woman who sold him his last pair of jeans.
Hillary is also learning to cope better with the attacks she receives for being aloof. Unusually, there is not a heckler in sight at her two Pennsylvania events. She has clearly taken a leaf out of her husband's well-thumbed campaign manual and now spends almost as long working the rope line as she does speaking.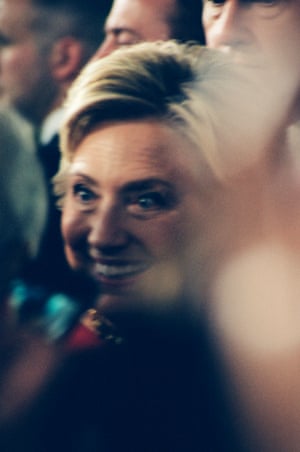 In an age where smartphone selfies have replaced handshakes and signatures, this can be an uncomfortably intimate experience, but the Democratic nominee dives in, her small frame lost in the crowd until it thins out and allows her to escape. Physically touching as many voters as possible seems to work. Mums with kids walk away excited, dancing to campaign tunes with an excitement that has grown noticeably even in the last few days.
Selfies are also posed for by Huma Abedin – a close Clinton aide who has become a celebrity in her own right thanks to the online philandering of her former husband Anthony Weiner.
Buried in the emails that caused Clinton so much trouble at the outset of the campaign were some uncomfortable reminders of how estranged the globe-trotting secretary of state had at times become from her husband once they left the White House. The published correspondence often showed the two communicating through Abedin, as packed schedules left them many time zones away.
Despite the miles often still separating them, this increasingly confident campaign also seems to be helping knit the Clinton family back together again.